ChromosomeSweetheart
oroginal title: Sensyokutaino Koibit
染色体の恋人
2017/5min
2017
"Choromosome Sweetheart"
Directed by Honami YANO
Voice:Ataru NAKAMURA
Music:Chikara UEMIZUTARU
Sound:Yoichiro MUKASA, Rai SATO
Producer:Koji YAMAMURA
Production: Tokyo University of the Arts
声:中村中
音楽:上水樽力
音響:向笠揚一郎、佐藤来
プロデューサー:山村浩二
製作:東京藝術大学
監督アニメーション:矢野ほなみ
カフェで向かい合う人、髪の毛を吸う人、ひたすら走り続ける人と、
通り過ぎていく街、河川敷を歩く少女。世の中には色んな人がいて、色んな愛がある。
An ex-couple in a café, a girl sucking on her girlfriend's hair,
a running woman, a fleeing town, a little girl walking along the river.
In this world, there are as many forms of love as there are people.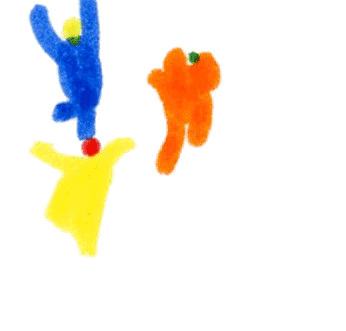 学生時代に人間の染色体の形をみたとき、ねりねりと動く人のようにみえました。
生物を構成する細胞のなかには核があり、そのなかに染色体がありますが、この小さく人間みたいな形のものに、生物学上の性別が決められたり自分の情報が記録されたり、自己意志のないところで自己決定されることを不思議に思っていました。
それから想像を膨らませる形で、人に見える染色体を人として独立させ、ものすごく単位の小さいそのミクロな姿を、群像劇として成立させたいと考えるようになりました。それも自分の意志(クィア)が介在する形で。
狙いとしては、ものすごく短いシークエンスで群像を描き、小さな物語をつなげることで大きな物語を描きたい―それが染色体の構造と同じなのではないか―と考えました。
手を動かしながら制作を通して「クィア」と向き合おうと思い制作した作品。
When I was a high school student, to me the shape of human chromosomes looked like wriggling people. It amazed me that biological gender and personal data are recorded in these tiny, human-looking molecules, and that they are self-determining even though they have no will.
From there, my imagination led me to a film featuring an ensemble cast comprised of these microscopic chromosomes but each depicted as independent human beings. In it, I wanted my queer will to be the intervening medium.
My aim was to portray small groups of people in very short sequences, and then create a bigger story by connecting the smaller ones – I thought that structure would be the same as chromosomes. At the time of production, I had uncertainties and perplexities about my life, so in a way I wanted to create this work to confront myself and the queer identity.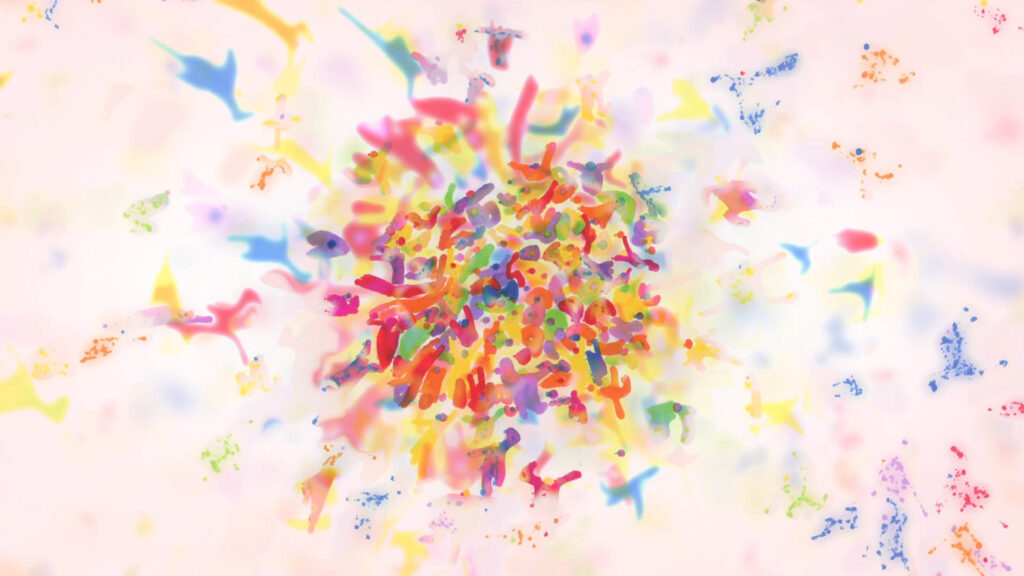 Awards
KuanDog Prize International Student Short Films, The KuanDu International Animation Festival 2017,Taiwan
Hot Topic Prize, DigiCon6 ASIA, Japan
2nd Place, Pacific_Animation Division CILECT PRIZE 2018
Nominations

・

Frameline41, the San Francisco International LGBTQ Film Festiva,/US


・

the 2017 Outfest Los Angeles LGBT Film Festival,US


・

10th International Animation Festival Fest Anca/Slovakia


・

New Chitose Airport International Animation Festival 2017, Japan
・Montreal International Animation Film Festival – ANIMAZE 2017, Montreal, Canada


・

LINOLEUM International Contemporary Animation and Media-Art Festival 2017, Ukraine


・

animanima international animation festival 2017, Republic of Serbia


・

Supertoon International Animation Festival 2017,

Republic of Croatia
・14th annual Animation Block Party film festival,US
・RainbowReelTokyo 2017, Japan


・

 Indie-AniFest 2017,Korea


・

Anibar Festival 2017,Kosovo


・

Reel Pride Gay and Lesbian Film Festival 2017

/US


・

28th Lesbisch Schwule Filmtage Hamburg/ Germany


・

23rd ENCOUNTERS FILM FESTIVAL 2017/UK


・

 Shanghai Queer Film Festival

2017/China
・Taichung International Animation Festival 2017


・

7th Ars Independent Festival in Katowice, Poland.


・

6th Kolkata Shorts International Film Festival-2017, Kolkata, India


・

Women Make Waves Film Festival 2017, Taiwan
・Out On Film 2017/Atlanta,US
・New York's LGBT Film Festival 2017,US
・The 7th Annual Kuandu International Animation Festival (KDIAF)
・2017 Kaohsiung Film Festival International Short Film Competition
・Fringe! Queer Film & Arts Fest 2017/UK
・22nd Madrid International Lesbian Gay and Transsexual Film Festival, Spain
・Primanima World Festival of First Animations 2017, Hungary
・Black Movie, Geneva International Independent Film Festival 2017, Switzerland
・Melbourne Queer Film Festival 2017, Australia
・16th Countryside Animafest Cyprus,Cyprus
・15th Zinegoak, International LGTB Film and Performing Arts Festival, Spain
・the 2nd Pink Life QueerFest2017, Turkey
・The 3rd Ground Up Student Film Festival, Hong Kong


・

The 17th International Animation Festival Hiroshima 2018, Japan
・The Melbourne International Animation Festival 2018, Australia
・Festival international de cinéma d'animation de Meknès、FICAM 2018, Morocco
・29th Annual Honolulu Rainbow Film Festival, US
・Seoul Int'l Women's Film Festival 2018, Korea
・Mix Mexico Festival 2018, Mexico
・Japan Film Festival of SF2018, US
・GAZE LGBT Film Festival 2018 in Dublin, Ireland
・International Animation Festival HIROSHIMA 2018
・Fête de l'Anim' 2018, France
・Queensland edition of the Australian International Animation Festival 2018, Australia


・

9th International Inter-University Film Festival 2017,Bangladesh
・Queers in Shorts 2019, England
・大阪学生Queer映画祭 2019, Japan
・Queer East Film Festival London 2020, UK
・28th Long Beach QFilm Festival, 2021, US
・Shortcuts – Kurzfilmreihe(Screening) 2021/Germany
Exhibition
「光影之前」/"Before Light In The Motion"-IOMA Art Center (798 Art District Beijing), 2020 China
Making of "Chromosome Sweetheart"
▲Demonstration Movie of "ChromosomeSweetheart"
染色体の恋人メイキング動画
▲Comparing of Animatics and Final look of ChromosomeSweetheart
アニマティクスと本編の比較