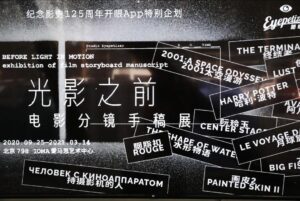 北京798芸術区のIOMA Art Centerにて開催されたアニメーションの特別企画展「光影之前」(organized by 开眼Eyepetizer)て「染色体の恋人」も参加させていただきました!
北京798芸術区は2000年ごろに作られた中国最大の現代アートエリアだそうです。
この展覧会では、さまざまな映像にまつわる作家の展示があり、1階の長編フィルムのエリアでは、ジェームズ・フランシス・キャメロンとリー・チャンドンなど、大ベテランアーティストの展示エリアもあったようです。
その中に、大規模なインディペンデント・アニメーションの展示(curated by Youyang Yu)もあり、「染色体の恋人」はそのセクションで参加させていただきました。上映や、ストーリーボード、コンセプトデザイン、制作プロセスの展示などが行われました。
展覧会は、2020年の大変な時期に開催されたにもかかわらず、とても多くの方の参加があったようです。
このような活気と愛情に満ちたアニメーションの展覧会に参加できて、とても光栄でした。
この展覧会を実際に見ることができればよかったのですが。
キュレーターのYouyangさんに感謝です。
My film "Chromosome Sweetheart" participated in the exhibition "Before Light in Motion" (organized by 开眼Eyepetizer) held at the IOMA Art Center in Beijing's 798 Art District.
The Beijing 798 Art District was created around 2000 and is the one of the largest contemporary art area in China.
The exhibition featured a variety of artists, and the feature film area on the first floor seemed to have some of the most veteran artists on display, including James Francis Cameron and Lee Chandon.
There was also a large scale independent animation exhibit (curated by Youyang Yu), and "Chromosome Sweetheart" was able to participate in this section. There were screenings, storyboards, concept designs, and displays of the production process.
The exhibition seemed to be very well attended, despite the fact that it was held during a difficult time in 2020.
It was a great honor to be part of such a vibrant and loving exhibition of animation.
I wish I could have seen this exhibition in person.
My sincere thanks to the curator, Youyang, for inviting me to such a wonderful exhibition!
Article on the exhibition